DAY 211
We're reading some familiar parts of the book of Daniel today. Be careful when you read something you think you're familiar with. It's possible to be so familiar that you miss parts of the story. Read today's readings like you've never read them before.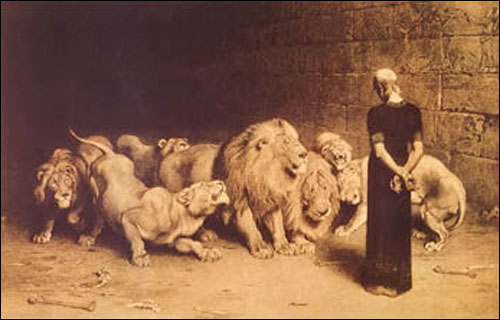 DAILY READINGS
Daniel 4-6 & Psalm 56
DAILY NOTES
Daniel 4
This chapter reads like a proclamation of an event. The event is Nebuchadnezzar's second dream followed by his time "driven away from society." It ends with his praise of God.

Didn't he praise God after that fiery furnace incident?

The king's people still could not interpret for the king.
The result of the dream was so that "all who live may know that the Most High is sovereign over the kingdom of mortals" (Verse 17).
Daniel stresses over what he sees.
Twelve months pass before the dream comes to pass. Was that time given for the king to repent? Time to declare God's sovereignty? Daniel never put a time frame for it to happen.

12 months pass, but it all comes to fruition in an instant.

"My reason returned to me" reminds me of Luke 15:17 when it's said that the prodigal son "came to his senses."
Daniel 5
In case you weren't sure, this is where we get the saying about the writing being on the wall.
Again, none of the king's people could make sense of what the king saw (this time, what everyone saw).
In the next two chapters Daniel will be recognized as "one of the exiles of Judah." That is, most likely, a point of encouragement for the first readers.
Daniel doesn't seek the gifts or rewards of the kingdom. He is able to interpret the writing, though, and is promoted (again...same kingdom, different king). Good thing he got the promotion so quickly; the king died that night as Daniel foresaw.
Daniel 6
Daniel's "excellent spirit" does not sit well with his co-workers. They plot against him and are able to have him thrown into the den of lions. The king was determined to save him, but his edict was already set in place--a sermon about being careful with your words?

The king even fasts for Daniel.

Daniel's safety demonstrates God's power and the king declares that to his kingdom.
OTHER OBSERVATIONS
My favorite part of the story of Daniel in the lions' den is that Daniel knew about the edict.
Remember that the book is designed as an encouragement to the people of God. People of God have things happen around them that can take their focus off of their delight in God. It could be a king's edict, a swarm of conspiring coworkers, a pile of bills, a broken-down car, kids, a Cowboys game or something like that.
But the edict didn't change what Daniel did. The story doesn't even say he prayed even more fervently than he did before. He prayed "just as he had done previously."
If we could shape our lives in such a way, we wouldn't have to be worried about not having time to pray, read scripture or other important spiritual disciplines. They would just be what we do.
Daniel seems like he would have been a pretty busy guy. But he knew his scheduled and made sure to keep his discipline.
So, it might be time to take a look at your schedule and do the same.
Stay blessed...john